When We Are Closed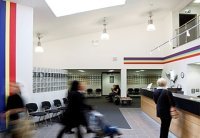 If you are unwell when surgery is closed an answering machine is left on to provide patients with a few helpful telephone numbers.
From Monday to Friday 18:30 to 20:00pm and Saturday 08:00am to 12:00 and Sunday 09:00am to 12:00 call 01772 529200.
outside these hours if you need urgent medical assistance which can not wait till surgery re-opens then call 1 1 1. Calls to NHS services are free from landlines and mobile.
| | | |
| --- | --- | --- |
| Emergency Dental Services | | 01772 777397 |
| Talk wise | | 01772 255 303 (Emergency contraception: Any pharmacy) |
| 111 | | If you require medical urgency that can not wailt till surgery re-open then dial 111. Calls to NHS 111 service are free from land lines and mobile. |
| Dial 999 | | Call 999 in an emergency. Chest pains and / or shortness of breath constitute an emergency |
| Local Family Planning Services | | 0177 401140 |
| Non-Emergency Ambulance booking | | 01772 325 100 |
| Nearest Walk in Centre | | Blackpool |
| | | |
| | | |